Suspension losses
I have formed the habit of cycling to Rocky River on one side of the Motueka river, crossing at the Bluffs bridge, & returning past the aerodrome on t'other side. It is a pretty route, punctuated at various points and on various occasions by wild pigs rooting at the side of the road, by Bill the farmer using profane language and a hammer to maintain the power take-off on his David Brown, and by Watsons omitting to sweep the thorns up after mowing the hedge on High Street. Here's last year's offerings. I pick them up to hand in to the police station where I happen to know half of the officers are keen roadies.
Found on the cycle path on State Highway 60, this time last year
In the last week or so I found myself in perfect health, thank you very much for asking, and yet with no headwind, no brakes rubbing, and tyres pumped hard, the trip had started taking a mysteriously lethargic 70 minutes. Yesterday the bike was bouncing up and down in a soft, comfortable, gentle manner and, after a few miles' thought, it occurred to me to stop and check the suspension, which is composed of inner-tube strips wrapped in tension. And on so doing I found half of them broken, and groping in the saddlebag for spares and re-wrapping the rubber, the machine stopped bouncing and my speed improved and the trip time returned to its rather sweaty 56 minutes. A salutary lesson on the costs of comfortable suspension.
A rubbish picture of the rubber lashing which is my bike's suspension unit
Today it was belting rain upon the Earth, and peeping out of the kitchen window it was pretty hard to differentiate between the waters which were above the firmament and the waters which were below the firmament, at least in Motueka. Peeping out of the kitchen window I couldn't see Mount Campbell at all. Peeping out of the kitchen window all I could see was dense grey rain. Peeping out of the kitchen window it looked like time to start making an ark of gopher wood three hundred cubits long and rounding up fowls of their kind and cattle of their kind and every creeping thing of the earth. (Two of each sort, obv..)
Accordingly Mr Schroder and Mr McLeod who had been idly toying with a ride over here chickened out, the pathetic wimps, which was just as well because I wasn't bloody well going out for a ride in this weather. But Mr Schroder piled his machine into the back of his ute and poled up for a wag of the jaw and a mug of the tea, no doubt with half an eye on the gopher wood situation in the Moutere Hills.
Mr Schroder's new machine - Schroder 3 - is very tightly built. There is not much clearance anywhere. Mr Schroder suffers from short stumpy legs which only just reach the ground and on some occasions, such as when he flies gaily through the air before head-butting the local geology, don't reach the ground at all. These short stumpy legs are huge things, the hugeness entirely composed of muscle. I have ridden with him before: his cadence is about thirty while mine is about ninety and he's a good deal faster than me. He opts for short cranks, a massive chainring, and the use of vast force to go Stinking Fast. But short legs raise the problem of tight clearances, and on front wheel drive low racers, those clearances become Very Tight Indeed. There is exactly 5.5 millimetres between the front tyre and the frame.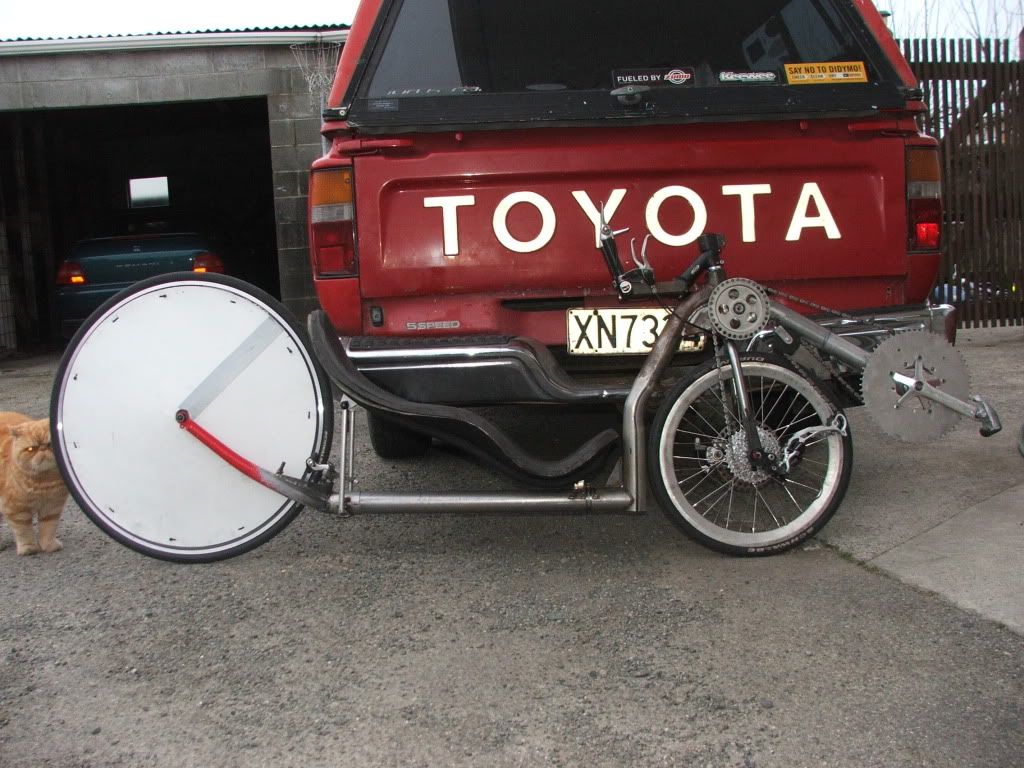 Schroder's cat. There's another one exactly like it inside the back of the car. The rest of the machine is located at
There is no room at all for the rear mech cable: it has to be threaded through the fork leg. (He threaded the inner cable first, and then the cable housing afterwards, a sneaky trick which I shall steal and cunningly claim as original sometime.) Handlebars have been ditched altogether and he relies on a tiller, with gear changers to fiddle with and go dackadackadacka at the traffic like in the Battle of Britain film. - Did you know Susannah York just died? - Well she did, and she was 72. Hard to believe anyone as pretty as Susannah York could ever be 72. - His frontal area - we are referring to Mr Schroder again - we have put the alluring discussion of Susannah York to one side - is 21 inches square, plus head, plus helmet, and here is a picture.
He'd made a very useful pair of T-stands that clamped to the main tube & allowed for stationary pedalling. He offered me a go but I declined partly cos of the wet road (spray in hair & up legs & on unpainted steel frame) and partly because he is a chain-oiler and I am a wax-snob. Besides, Mr McLeod has had a mishap with his chain on his FWD low racer and I am in no hurry to emulate it:
Tested the new lowracer sans idler chain guide/shield. For all the FWD advantages it is also highly efficient at pulling hair and skin thru the drivetrain without much effort -
James

He even sent me a photo of it, little thinking it would end up on the Internet. - You can just never be too careful. -

So all of the above are my feeble excuses for failing to Get On With John's high racer. But I will, I will, because Mr Knight presses on with his rubbishy old Geared Facile and I have just read that fully 48% of New Zealanders were wholly indifferent to the opening of the rugby world cup, so there must be an eager 2,080,000 people out there prepared to get all excited about how we're both doing instead.
Labels: FWD idler wheel, Schroder, suspension